It's our last day in the sublet we've been loving so much this summer. (All hail Listings Project.) And, finally completing the mission I attempted on the FIRST day of my batch, I successfully walked from Brooklyn Heights all the way to SoHo-ish RC in a beautiful late-summer morning. It was a really clear measuring stick for how 1) the weather has shifted, 2) my comfort navigating here (with a few google-y prompts) has improved dramatically.
I got so, so lost the first day. Where I come from, to find one side of a bridge from land, you just go to the water and walk towards the bridge, usually. New York starts its bridges MUCH, much, much further back. And then there's the construction, obscuring staircases and more permanent signage. And by the time I arrived here, I was a bit of a mess.
But today? Such a treat. So simple. I'm comfortable jaywalking in front of crowds of NYC cops (whoops), because I have an innate understanding that no one cares.
Had another good coffee quest with our ever-growing check-in group. It was less check-in-y and more walk-y, but I had a few really good check-in-y conversations with folks.
Sat in on some systems design mock interview questions about elevators (neat!) and auto-complete searching (yikes!) with Sam, Jesse, and John (some of my favorite alums). I like that RC provides a way to inch closer to terrifying concepts in whatever way works for you. And today, that was just Being Around People Doing Interview-Type Stuff.
I also did the thing I've been threatening to do, and headed back to my Udacity course (intro to relational databases yesssssss).
Updated my VirtualBox, even though my old version said there were "no updates available" (fortunately for me, I know enough about how versioning works). (I had a previous one installed from an A11y project at a Grace Hopper Celebration Open Source Day.)
Installed Vagrant (exciting) and OH MY GOSH running vagrant up is COOL and all except for the part where it took FOREVER to download the box it needed (I think?). By "forever," I literally mean over half an hour (that timestamp — /t — on my bash prompt came in handy!).
I don't know if it's all Udacity courses, or just this one, but the instructor is this kind of joyous nerd with a solid dose of humor. I regularly find myself connecting with weird little things, like this screenshot about "where you've been sending your SQL queries on this website":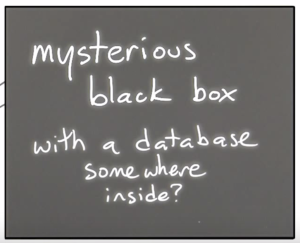 which is approximately how I've been feeling.
Went to Spring's (side note: try googling them without looking at that URL) "yay new office" happy hour with a few other Recursers (all invited by Maia, I think). Realized how much I miss nametags if everyone does not definitely know each other. I also realized (again) how much I love good guacamole. Both are important, right?
Got home not-too-late to new-home (where we'll be for the next couple weeks) in East Williamsburg, and it's…the fanciest place that I've ever called home, even temporarily. It's fancy in a calm way, though, with lots of little details to notice.