Didn't do a lick of my own thing (except make tea) before 12:30. Had sitting group (I've been every day, often late, often on time), had morning check-ins, went to Ben's "Ask Me Anything" talk, which was actually super useful. (There is such a tricky balance here between "INTERESTING THINGS ARE GOING ON" and "I ONLY HAVE THESE THREE PRECIOUS UNINTERRUPTED MONTHS TO WORK ON MY OWN STUFF.") I took sorta sketch notes (no pictures, only words):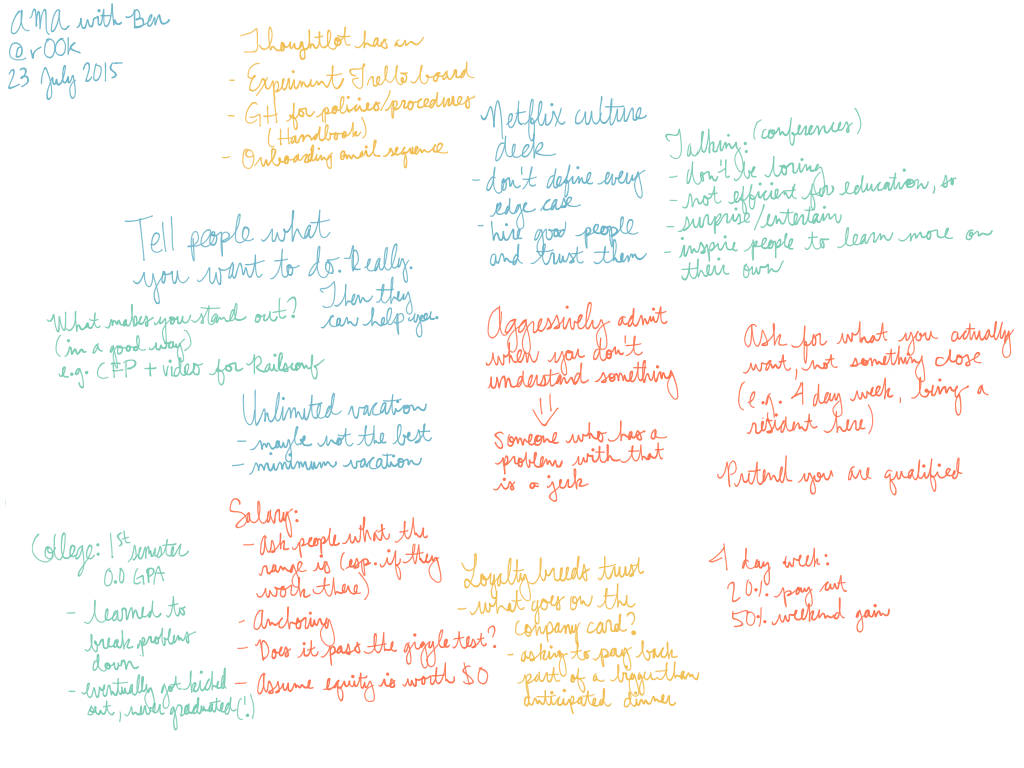 Also experimented switching my little Pomodoro counter. It defaults to ticks (or tocks; I can't remember which is which, because I am not a strict adherent) of 25 minutes (during which you focus), with breaks of five minutes in between. After four ticks of 25 min, you get a break of 15 minutes. I'm experimenting with a 52 on/17 off structure, inspired by this post my coworker sent to me months ago, which I quite liked, even though I only got to try it out one day a week.
Today's LPTHW quotations include the following:
Now I have to hurt you with another container you can use, because once you learn this container a massive world of ultra-cool will be yours.
Skipped Ben's "care and feeding of dotfiles" talk, and maybe I shouldn't've, but I've also become confident that I could literally just ask him (or any of the other people I know with strong vim opinions, including my partner), and they would probably be happy to share the thing they're excited about. Also skipped Raquel's "Life outside of the bubble" talk (i.e. what is some awesome stuff to do outside of tech?), although I did not avoid getting the inspiration-song stuck in my head.
Really liking the longer "tocks" of 52 minutes. It feels long enough to get something done in. Being able to take regular real breaks also feels REALLY conducive to being a happy, productive human being.
Played around with Python's hash function a bit after encountering it in LPTHW exercise 39.  This is the first thing in here in a while (like, much of this exercise) that's kinda blown my mind. And lo, there is a walkthrough of the functions (but I got plenty lost before then, which I'm glad about).
Sent off another email (I'm skipping all typos, but emailing about the two code errors I've seen so far) regarding exercise 39's last "you should see" example — the PDF I pulled down earlier this month has an ImportError, and nothing else. The code itself works just fine, and in fact it's fine on the website as well.
Worked some more on dictionaries and modules (<3 <3 <3), and eventually got cut off by the appearance of presentations (which, fortunately, I love).
Now headed out to an outdoor free movie and takeout with Nathan and Nora, who's in town for the weekend (we're heading up to Vermont to visit/meet family; they're doing the former, I'm doing both). I want to spend more time with my code, so I'm smuggling (read: transporting) my giant Learning Python book home with me for the weekend. Eeeeee.